State of the industry: 7 big takeaways from a new report on salaries and job satisfaction in cardiology
With physician burnout on the rise and a massive physician shortage on the way, it's more important now than ever to keep a close eye on how the cardiologists in the United States—and their close colleagues—are being paid. An underpaid cardiologist, for example, is less likely to stay in cardiology than one who feels fairly compensated. And medical students and trainees who learn that wages and morale are both low in cardiology may never even give the specialty a chance.
We decided to launch the Cardiovascular Business Salary and Job Satisfaction Report to help track these trends going forward. This is the survey's first year, and we aim to deliver one each year going forward. Our aim is to provide a close look at compensation among cardiologists as well as the challenges they face, their goals and much more. 
We heard from a wide variety of cardiology professionals—including cardiologists, cardiovascular service line directors, cardiac surgeons, electrophysiologists (EPs), nurses and more—for this survey.
These are seven big takeaways from our findings:
1. A close look at cardiologist compensation
The average annual salary for U.S. cardiologists was $434,000. The highest cardiologist salary reported in our survey was $725,000. These figures are lower than the $579,000 to $612,000 range reported by MedAxiom in September 2021, but they do line up with the $459,000 average reported by Medscape in May 2021 and the $446,000 average reported by Merritt Hawkins in August 2021.  
Forty-six percent of cardiologists tell us all or almost all of their compensation is tied to productivity measures. The ongoing war of quality vs. quantity is still being waged when it comes to cardiologists, it seems, but this number will likely shrink as time goes on. 
2. Compensation among other cardiology professionals
In addition to cardiologists, we also heard from administrators and cardiovascular service line directors; technologists and sonographers; cardiac surgeons; physician assistants; nurses; interventional cardiologists; EPs; coding specialists; and department heads.
Average annual salaries among these groups included:
Cardiac surgeons: $898,000

Cardiovascular service line directors: $534,000

Electrophysiologists: $485,000)

Interventional cardiologists: $439,000

Nurses: $157,000

Administrators and service line directors: $149,000.

Physician Assistants: $146,000

Technologists/Sonographers: $83,000

Coding specialists: $57,000
Proof of that war between quality vs. quantity is more obvious when reviewing the survey responses from all cardiology professionals and not just cardiologists. While 58% of respondents said their compensation is an annual salary, 18% said it is a split between productivity measures and quality measures. Another 16% said it was all or almost all tied to productivity, and 8% replied "other." 
3. Who in cardiology feels fairly compensated? Who is ready to move on?
Fifty-nine percent of respondents said they feel fairly compensated. This number was the highest among technologists/sonographers (75%), administrators/service line directors (68%), cardiac surgeons (67%) and cardiologists (59%). It was lowest among EPs (0%), coding specialists (40%) and interventional cardiologists (43%).
Meanwhile, a clear majority (85%) of respondents said they would choose the same career path if they had to do it all over again, suggesting that even individuals who do not feel fairly valued still don't want to walk away from cardiology altogether.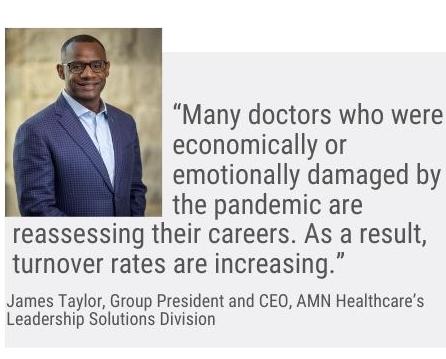 Another noteworthy finding from this analysis was that 11% of cardiology professionals said they are "very likely" to change employers in the next year. This figure more than doubled (23%) when eyeing feedback from cardiologists alone.
James Taylor, group president and CEO of the leadership solutions division at recruiting firm AMN Healthcare, notes that he has seen "a great deal of volatility" among physicians in recent years.
"Many doctors who were economically or emotionally damaged by the pandemic are reassessing their careers," he says. "As a result, turnover rates are increasing. The 23% of cardiologists who indicated they are very likely to change jobs in the next year is a significant number. If you are a hospital or large medical group with 1,000 physicians of all kinds, and 11% leave per year, you have to replace 110 each year. That is a tall order."
4. Threats to job security and job satisfaction in cardiology
Cardiovascular Business also wanted to see what cardiology professionals view as the biggest threats to their job security and/or job satisfaction. Respondents were allowed to choose more than one answer, allowing them to detail more than one persistent issue. The two most common answers—by a significant margin—were "continued internal cost-cutting measures" (54%) and "external financial pressures" (43%). In fact, the only other answers selected by at least 20% of respondents were "interacting with the EHR" and "personal issues with coworkers or management." 
As one might expect based on these statistics, cost-cutting measures and financial pressures came out on top for pretty much every group included in this survey. There were, however, two exceptions: "Personal issues with coworkers or management" was the No. 2 answer among nurses and "staying current with new devices and technology" was tied for No. 1 among technologists/sonographers. 
It's easy to understand why so many cardiology professionals would view cost-cutting measures as a threat to both their happiness and the health of their business. Gavin Hays, CEO of recruiting and consulting firm Springboard Healthcare, says providers play a key role in this dynamic, constantly urging health systems to cut costs at every turn.
"This is not new," Hays says. "Even though cardiology remains a revenue-generating business line, other areas within the facility are losing money."
Seth Thomas, a vice president for cardiovascular service line and recruiting specialists CardioSolution, sees validity in both sides of the equation when it comes to the continued emphasis on cutting costs in cardiology.
"I certainly understand the plight of the healthcare worker on this topic, especially given the sacrifices so many of them made providing care in the most challenging healthcare crisis in modern medicine," Thomas says. "For the last two years, they've carried higher patient loads while treating much sicker patients. I think many are just exhausted."
Thomas also thinks healthcare leaders have gone and above and beyond during this challenging time. "I've spoken with a number of hospital CEOs and CFOs who chose to operate at a loss in 2021," he says. "They put their patients and their staff before their bottom line."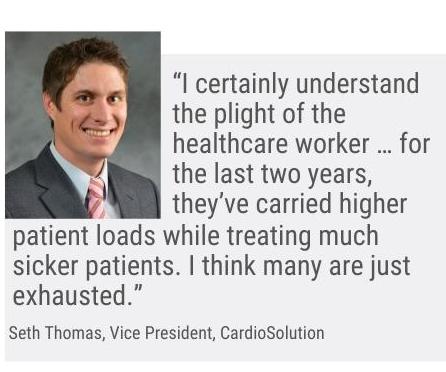 External financial pressures, of course, can be a threat to the job security and job satisfaction of almost any employee in the United States—and cardiology is no different.
"The move toward EHRs, the increased need to document quality measures, the ongoing challenge of obtaining reimbursement from third parties, rising equipment costs and labor costs all contribute to the expense of running a medical practice," Taylor says. "Rising costs and rising operational complexity help explain why so many physicians have walked away from the private practice model and now are employees of hospitals, hospital-owned groups and other entities."
5. Cardiology's biggest challenges
When we asked respondents about the biggest challenges they face, overall staffing levels was the most popular answer by a significant margin. This was no surprise, of course, with much of the healthcare sector currently navigating through the great resignation. The second and third most popular answers were increased workload due to organizational changes and struggles with internal management, respectively.
Cardiologists, administrators/service line directors, EPs, interventional cardiologists, nurses, surgeons and technologists/sonographers all chose "overall staffing levels" as their biggest challenge of the last year.
Taylor tells us he sees many in the industry struggling with staffing levels.
"Labor shortages are prevalent in many industries right now, including healthcare," he says. "This shortage of physicians, nurses and allied healthcare professionals we are seeing did exist before the pandemic, but COVID-19 has added rocket fuel to that problem. It's going to take a variety of measures, including new training programs and reallocating work among other clinicians, before the situation can be addressed."
Thomas agrees, noting that CardioSolution has been seeing widespread staffing shortages for at least the last two years.
"We've seen an unprecedented number of cath labs staffed at just 50% capacity," he says. "In some cases, they're struggling to even stay open."
Even though some of these staffing issues may be a direct result of the COVID-19 pandemic, only 30% of cardiologists listed COVID-19 as one of their biggest challenges of the last year. Among other groups, it was hardly listed as a problem at all.
6. The rewarding side of the job
We also wanted to look at the upside of cardiology, asking respondents to share the most rewarding parts of their jobs. Working with a great team tops the list, and making the world a better place for others came in at a very close second place. Patient relationships, "being very good at what I do" and "making good money at a job I enjoy" rounded out the top 5 answers.
Among cardiologists alone, making the world a better place for others patient relationships and "being very good at what I do" were the top responses.
These were the top answers among other job titles included in our analysis:
Administrators and service line directors: Working with a great team

Cardiac surgeons: Making the world a better place for others

Coding specialists: Being very good at what I do

Department heads: Making the world a better place for others

Electrophysiologists: Patient relationships

Interventional cardiologists: Patient relationships

Nurses: Being very good at what I do

Physician assistants: Making the world a better place for others

Technologists/sonographers: Patient relationships
7. Cardiology's future looks bright—and busy!
Instead of exclusively looking at the past, this survey offers a glimpse into the future as well. What will the cardiology workforce look like in another 10 to 15 years? Will healthcare professionals still be fighting the battles of today or will new challenges emerge?
Hays, for example, expects compensation for nurses, technologists/sonographers and other hospital-bound providers to climb in the years ahead. It's an area he and his colleagues at Springboard Healthcare look at closely with their own annual surveys.
"U.S. hospitals are looking to lure clinicians back who may have taken different assignments during the pandemic," he says. "Our 2021 data already showed that 62% of respondents saw their wages go up, and you will begin to see more hiring bonuses as well."
Taylor, meanwhile, thinks demand—and, yes, compensation—for cardiologists will likely increase by a considerable margin in the years ahead.
"Demand is very likely to increase," he says. "The prevalence of heart failure in the United States is projected to increase by 46% from 2012 to 2030, and more than 70% of all U.S. adults smoke, drink excessively, get insufficient sleep or don't engage in enough physical activity. Meanwhile, a wave of retirements is expected to hit cardiology at the same time that the patient population is getting older. This will all put upward pressure on salaries and other incentives in cardiology for the foreseeable future."
Notes on the Cardiovascular Business Salary and Job Satisfaction Report
Data was collected from September to November 2021. No outside vendors or associations funded this study. Sources interviewed for this survey only reviewed our data—they did not offer any assistance or funding.
If you have any questions, please reach out here.   
Related Cardiology/Cardiologist Salary Content:
Cardiologist salaries in the wake of COVID: 8 key takeaways from a new analysis
Cardiologists report an average 2021 salary of $538K, up 2% from 2020, as pandemic continues
Interventional cardiologists earn healthcare's highest starting salary—other heart docs not far behind
Despite the pandemic, cardiologist salaries are up 5%
Cardiology salary update: New report examines pay gap between male and female cardiologists
Cardiologist salaries are on the rise, with electrophysiologists leading the way
Related Articles on Heart Rhythm, Economics, Clinical Research, Vascular & Endovascular